Op Snap | Driver receives 9 points and £386 fine following close pass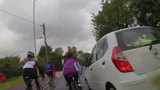 On the morning of the 26th June, 2021 a careless close pass occurred on the A4054, Cardiff Road, Pontypridd.  
The offending motorist was travelling directly behind a group of cyclists, and as they were approaching a traffic island in the middle of the road the motorist manoeuvred swiftly to overtake the cyclist. This manoeuvre was careless and severely increased the risk to the safety of the cyclists involved.
When our officers reviewed the footage submitted to GoSafe via Operation SNAP, they deemed the driving standard witnessed to be so poor that offering the offender the usual course and/or a fixed penalty would not have reflected the seriousness of the incident and the case was sent straight to Court.
On the 18th August, 2021 the offending motorist pleaded guilty at Cardiff Magistrates Court to an offence of driving without due care, where he received a fine of £386 and given 9 penalty points on their license; 9 penalty points being the maximum you can receive for a driving without due care and attention offence.
Cyclists are classed as vulnerable road users and have every right to use the roads safely and confidently. When overtaking a cyclist, motorists should leave a safe distance of at least 1.5m between their vehicle and the cyclist.
Teresa Ciano, GoSafe Partnership Manager said:
"We all have a part to play in keeping our roads safe for everyone. Careless close passes, like the one recorded in this incident, risks the safety of cyclists. The consequence of this careless incident reflects the seriousness of the offence. We all share the road and should be able to do so confidently. When approaching a cyclist, be patient and wait until you can overtake safely." 
If you have witnessed a close pass or any other dangerous or careless behaviour on the roads of Wales, you can submit your video footage or images to us via Operation SNAP .