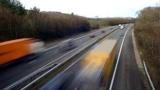 We understand the pressures you can face in your everyday working life – deadlines to meet, appointments to keep, timetables to stick to regardless of road or traffic conditions.  But whatever the reason, there is simply no excuse for driving above the speed limit.... anywhere, anytime.
If you are caught speeding in a company vehicle, either on camera or by a police patrol, you will be prosecuted without any right of appeal on the grounds that you were just 'doing your job'.  Which means…..
for an employee... 
A minimum £100 fine
A minimum of three points on your licence
Disqualification if you collect 12 points within three years
Even heavier penalties – including disqualification – if you are caught driving at 'excessive' speed.
The possibility of losing your job if it is your employer's policy that all drivers of company vehicles must hold and maintain a clean licence.
for an employer
As the registered keeper (or subsequently named user/operator of the vehicle) you will be sent a Notice of Intended Prosecution and Section 172 requirement. This requires you to give information on the identity of the driver at the time of the offence.
You will be given 28 days to reply. If you do not respond within that time, you may be prosecuted for not naming the driver under Section 172 of the Road Traffic Act 1998.
The law expects you to know who was driving the vehicle and if you fail to provide this information, you could face prosecution, a fine of up to £1000, 6 penalty points and a criminal record.
Speeding to save a few extra minutes just isn't worth it.  So please take time to plan your journey and allow extra time for unexpected delays such as traffic jams and diversions.  Remember, if you are involved in a crash you will be late or, worse never arrive at all.
Employers can find more useful information on the RoSPA website.
Driving for Better Business also offer training and advice for both Operators and drivers.