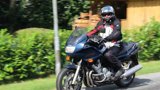 Motorcycling is an increasingly popular form of transport. However, motorcyclists are also one of the most vulnerable road users.
Riding a motorbike safely requires both skill and judgement. These are the reasons that many of us ride bikes. The successful use of these abilities makes us feel good and we are keen to be the best.
Motorcycling is a skill for life and any skill needs to be practiced, honed and developed. If you haven't been on the bike for a while ease yourself back in to riding gently and think about refresher training.
When you've had a good safe ride, think back to the skills and knowledge that made it good. Where it hasn't been so good or you've had a near miss, have other issues like group pressure, lack of practice, tiredness, distraction, anger, or stress got in the way?
Why not take a look at the Wales by Bike campaign which is written by professional bikers for bikers.  Showing great routes around Wales and more importantly how to prepare for your journey.