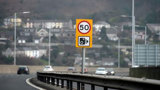 In 2015, an average speed camera system was established along the M4 in Port Talbot, replacing the fixed cameras that had been active since 2002. These cameras are easily identified by their traditional yellow casing, with the 50mph speed limit along this average speed system in place for road safety reasons and has been enforced for a number of years. Since 2015 over 44,000 Notices of Intended Prosecution have been issued.
In 2018, a decision to introduce environmental speed limits to improve air quality levels in five locations across Wales was made by the Welsh Government; the first of its kind in the UK.
The environmental 50mph cameras have been in place for a while, giving the motoring public the opportunity to acclimatise with their presence and to adjust their speed along these routes. These cameras, which record speeding offences for environmental reasons can be identified by the distinctive green cases which house the cameras.
As of the 4th October, motorists exceeding the 50mph speed limits on some of the most polluted roads in Wales could receive a letter or fine through their doors, including along certain parts of the M4 in South Wales, such as in Port Talbot.
These environmental speed cameras adjoins the already established average speed camera system along the M4 at Port Talbot.
GoSafe Partnership Manager, Teresa Ciano, said:
"Driving at the posted speed limit has benefits for safety, but it can also improve our lives in other ways.  By supporting the Welsh Government's ambition to improve air quality for Wales, we know our roads will be safer too.  By implementing a first of its kind advisory letter programme, we will be able to inform people of the importance of complying with the speed limit at these locations, whilst still prosecuting the most dangerous drivers."
So, as of the 4th October, 2021 be aware of your speed along the entirety of the M4 as NIPs can and will now be issued for all speeding offences, be they for road safety or environmental reasons. GoSafe would ask all motorist to stand up for slowing down and comply with the legal speed limit for a safer and healthier Wales.
You can read more about the Environmental Speed Limits here.