Spotlight on sites | B4337, Cribyn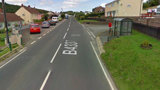 In 2009 a speed survey was conducted along the B4337, Cribyn, following concerns raised by residents of speeding vehicles travelling along the road.
The speed survey showed that 76% of vehicles were exceeding the speed limit of 30mph, with the average speed recorded at 35mph and 40% of vehicles travelling at speeds of 42mph or more.
GoSafe started enforcing at this site on the 21st May, 2010.
In 2019, another speed survey was conducted showing that 65% of vehicles were exceeding the speed limit. The average speed was recorded at 32mph with 38% of vehicles travelling at 42mph or more.
One collision has occurred at the site during the last 6 years, with 1 person sustaining slight injuries.
The B4337 Road is situated in a residential area with established housing estates. There are bus stops along this route, these are particularly busy with children going to and from local schools.
This road is also frequently used by families, who walk to the local primary school situated on this stretch of road.
There are a number of public facilities on this road that are used by vehicles and pedestrians, namely, cafes, places of worship and public footpaths.
There are also some high hedgerows at the side of the road which can reduce visibility during spring/summer months.
Despite regular enforcement over the last 10 years incidents of speeding remain high. Whilst reductions in speed have been observed in recent speed surveys, the decrease is insufficient to reduce or cease enforcement at this time.